Dentures – Metairie, LA
Replace Your Entire Smile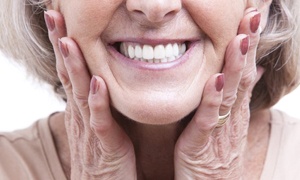 Missing teeth can really take a toll on your self-confidence. You might be afraid to smile or laugh in front of people in the same way you did when you had all your pearly whites. Luckily, your dentist in Metairie offers an easy solution – dentures. This set of prosthetic teeth can be used to restore your smile back to its former glory. If you're ready to say goodbye to the hassle of missing most or all of your teeth, then contact Second Line Family Dentistry today to schedule a consultation for dentures.
---
Types of Dentures
There are three main kinds of dentures in Metairie:
Full dentures: Designed to replace the entire top or bottom arch of teeth, full dentures are what you most often think of when someone mentions dentures. They stay in place with natural suction against the gums and denture adhesive if necessary.
Partial dentures: Also known as partials, partial dentures are ideal for patients who are missing only a few teeth. They consist of a metal framework onto which several prosthetic teeth are attached. They stay in place with the help of metal clasps or brackets. Like full dentures, partials are removable, and they prevent remaining natural teeth from shifting out of place.
Implant-retained dentures: By placing four to six dental implants in your jaw, we can provide enough support for a permanent or removable denture, depending on your personal preference. Implants provide unmatched stability and can last for upwards of 30 years if you take proper care of them.
---
Who Is a Good Candidate for Dentures?
For patients who are missing all of their teeth, we typically recommend full dentures, while partials are great for people with some remaining natural teeth. In order to receive implant-retained dentures, a patient should have enough healthy jawbone tissue to support a few dental implants. At the very least, they must be willing undergo a bone graft to increase the amount of healthy bone mass they have.
We also ask that before getting dentures of any kind that your gums and remaining teeth are free of infection. That may require fillings or gum disease treatment, but ultimately it will be worth it to replace your entire smile.
---
Benefits of Dentures
Dentures offer a whole host of benefits, such as preserving your facial structure. When you suffer through tooth loss, the muscles of your face eventually begin to sag. Dentures help keep your facial structure looking exactly like it was before your tooth loss.
They also allow you to smile with confidence again. Missing teeth can really stand out in your grin and make you self-conscious about the appearance of your smile. You may develop a habit of covering your mouth with your hand or lips when you smile, laugh, or even talk. Getting your teeth replaced with dentures can allow you to do these things to your heart's content without worrying about the way your smile looks.
Lastly, missing teeth severely impair your ability to eat a full, nutritious diet with healthy, crunchy foods like raw vegetables and tough meats. Dentures restore a majority of your original biting power, allowing you to eat virtually whatever you want once again.