Cosmetic Dentistry Transforms Metairie, LA Smiles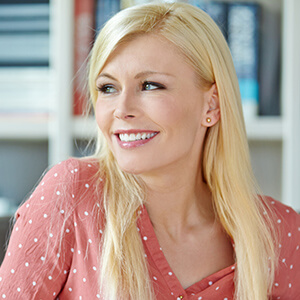 Your smile should reflect the real you — confident, beautiful, and healthy. If you don't feel completely satisfied with the appearance of your teeth, it's time to consider cosmetic dentistry. Your Metairie, LA dentist, Dr. Mayda Ferguson, can build a personalized treatment plan to help you achieve your most beautiful smile. Keep reading to learn more about everything we can do for you, then schedule an appointment for superior cosmetic care near Kenner, New Orleans, and Luling, LA today!
---
Porcelain Veneers
When your smile is affected by several imperfections — whether they are chips, cracks, stains, or anything else — porcelain veneers in Metairie could be a superb solution for you. These thin coverings remake the appearance of the teeth that show when you smile. Porcelain veneers are customized to match the size, shape, and shade that will suit you best, and they are securely affixed directly to the front teeth. Dental porcelain looks exactly like your natural teeth — except better, of course. Also, it's highly resistant to stains, so your smile will stay the same beautiful shade of white for years after their application. Most adult patients (over the age of 18) are eligible to undergo the treatment for porcelain veneers.
---
Metal-Free Restorations
When your front teeth have been impaired, you need a solution that fixes the way they look as well as the way they function. Metal-free restorations provide a perfect blend of cosmetic and restorative dentistry for teeth that have been affected by injury or decay. Porcelain or ceramic crowns, inlays/onlays, and porcelain veneers can beautifully repair the form and function of the teeth that show when you smile. And, thanks to CEREC technology, the treatment can often be completed in just one visit to Second Line Family Dentistry. Porcelain/ceramic restorations can last just as long as those constructed of metal or gold alloys, and they provide the aesthetic solution you want and need.
---
Direct Bonding
The same biocompatible material used for tooth-colored fillings can also be used to make minor or moderate cosmetic improvements to your front teeth. Chipped, cracked, broken, stained, and even slightly gapped teeth can be corrected with composite resin with the treatment known as direct bonding. Dr. Ferguson will apply the color-matched resin directly to the affected tooth, then sculpt it and shape it to renew its overall appearance. The composite material will then be hardened within minutes under a high-powered UV light. Direct bonding is usually completed in just one visit to Second Line Family Dentistry, and the non-invasive procedure can be performed painlessly without the need for local anesthesia (though sedation is always available for patients who would like to use it). Direct bonding is an efficient any affordable option compared to other cosmetic procedures.
---
Teeth Whitening (At-Home and In-Practice)
Most adults find that their teeth don't look as bright and beautiful as they once did. This is often the result of repeated exposures to coffee, dark soda, and even just less-than-perfect dental hygiene. Fortunately, your Metairie dentist has a solution: at-home or in-practice teeth whitening.
Talk to Dr. Ferguson about what you're looking to achieve with professional teeth whitening, and your dentist will make a recommendation that suits you and your smile goals best. At-home whitening can be completed at the pace you are most comfortable with, and it usually requires two weeks of daily use to get the full result. You will notice a brighter smile after the very first use, but you should still complete the treatment for full whitening.
Patients who wish to benefit from faster results can choose our in-practice whitening option. In just one, one hour visit to Second Line Family Dentistry, we can break through stains and reveal teeth that are up to eight shades brighter!
---
ClearCorrect Braces
It's never too late to benefit from orthodontic treatment, but you may reach the point when you feel too old to wear traditional metal braces. Patients who wish for a more subtle orthodontic approach can benefit from ClearCorrect braces. This method uses clear aligners to place pressure on specific teeth throughout the treatment. Over the course of 12 to 18 months, on average, the teeth will be realigned. ClearCorrect is a convenient, comfortable alternative to traditional braces.