Teeth Whitening – Metairie, LA
A Professional Approach to a Whiter Smile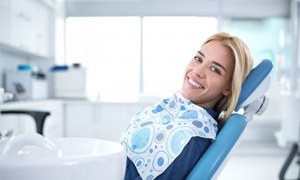 It's no secret that teeth whitening is one of the most popular forms of treatment in cosmetic dentistry to date. It's fast, easy, effective and proven to withstand the test of time when you practice daily oral care. When you visit Dr. Mayda Ferguson's dental office for teeth whitening in Metairie, you'll have the chance to choose between in-office and take-home solutions depending on your preference. Don't wait to start making your smile shine; contact her dental office to schedule your next cosmetic dentistry consultation today!
---
How Does Teeth Whitening Work?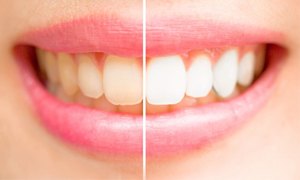 As your teeth is exposed to food and beverages over time, the hard outer shell known as the enamel begins to break down. As this layer becomes increasingly covered in micro-scratches, it makes it easier for richly pigmentated foods to seep into enamel and settle, resulting in stains. If you don't promptly remove these stains, they seep deeper into the dentin layer, which sits directly behind enamel. When stains are inside the deep layers of enamel and dentin, conventional over-the-counter whitening products cannot effectively remove them any longer. In other cases, aging can also affect the color of your smile, creating stains that require professional intervention to remove.
That's where our dental office's unique blend of whitening products come in. Dentist-provided whitening products contain far higher concentrations of bleaching ingredients compared to store-bought solutions. The biggest difference however is the way they are applied. Professional solutions are meant to stay on teeth more effectively than mass-produced whitening trays, allowing for a longer-lasting and more consistently thorough shade.
When you visit the dental office, you'll have two options for teeth whitening; in-office and take-home whitening kits.
---
In-Office Teeth Whitening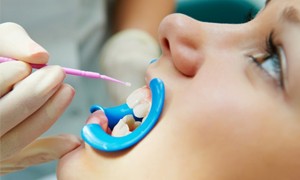 Do you have an event coming up with little time to prepare your smile? Don't want to wait to get your smile whiter than ever before? Those looking for a quick and easy way to whiten teeth in just one appointment should consider in-office teeth whitening. By applying professional-grade bleaching solution directly to your tooth enamel and giving it time to settle, the gel will safely permeate through your teeth and address stains in the deepest layers of your enamel and dentin. By the time treatment is complete, which takes about one hour, you'll be prepared for your upcoming event!
---
Take-Home Teeth Whitening Trays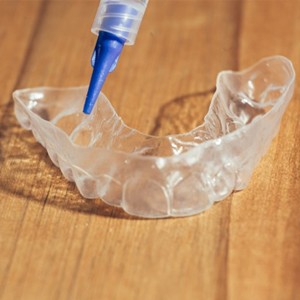 Those who would prefer to whiten teeth either on their own time or at their own pace should consider custom-made at-home teeth whitening trays. Each set of trays is fabricated to fit your smile exactly, ensuring even coverage and preventing the gel from becoming exposed to oxygen. Oxygen is one of the main causes of whitening gel not being as effective as it could be, which is why mass-produced whitening trays generally don't whiten teeth nearly as well. This is also because the gel these products do not contain as high of a percentage of hydrogen or carbamide peroxide.
By wearing the trays for at least 30 minutes a day over the next two weeks, you can achieve the same level of whitening that you'd find with in-office solutions!
---
Teeth Whitening FAQs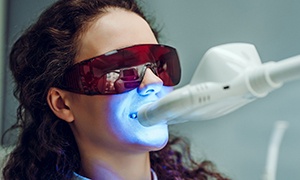 Professional teeth whitening is a great solution to turn back the clock on your smile; however, it's normal to have a few apprehensions before you're ready to commit to a treatment. Don't let uncertainty deter you from investing in whiter teeth. Here are the answers to a few of the most common questions patients ask us about teeth whitening to help you make the right decision for your smile.
Do I need a dental cleaning before teeth whitening?
We often recommend a cleaning to ensure the best outcome. Removing plaque and tartar allows the whitening agent to reach the entire tooth surface to promote consistent results. We can often perform both procedures the same day for added convenience.
Will whitening systems damage my enamel?
There are many misconceptions about whitening treatments like they are damaging to your enamel. Despite what you might have heard, this isn't true. When they are used according to the manufacturers' instructions and under the supervision of a qualified dentist, they aren't harmful to your smile.
Nowadays, whitening solutions are safer than ever. They are specially designed to strengthen your enamel and reduce tooth sensitivity. You can get your teeth as much as 8 shades whiter without worrying about causing any unnecessary detriment to your smile.
It's important to only use whitening treatments and products that are supported by reputable vendors and organizations. This reduces the risk of tooth sensitivity or root damage.
How long will my teeth whitening results last?
Your new smile can stay bright for several years with the right care, like maintaining your oral hygiene at home and visiting your dentist regularly. It's best to be proactive about preventing new stains; therefore, it's best to avoid darkly pigmented or acidic foods and drinks, like coffee, berries, or red wine. If you can't skip your morning cup of coffee, drink through a straw to limit contact with your teeth. Don't forget to brush well after eating or drinking anything that might lead to tooth discoloration. If you smoke, it's best to kick the habits to keep your smile bright.
How much does teeth whitening cost?
There isn't a specific fee for teeth whitening because the cost is based on your individual treatment, such as whether you're using an at-home kit or an in-office procedure. We'll provide you with an estimate during your initial consultation and discuss your payment options. We will help you find the solutions you need to invest in brighter teeth without worrying about draining your wallet.
Can I use my dental insurance to pay for teeth whitening?
Every dental insurance policy differs. Some plans may not cover teeth whitening because it's an elective treatment; however, there are some dental insurances that may pay a portion of the cost. A member of our team will work on your behalf with your insurance carrier to file the necessary claim forms when applicable. We will help you maximize your annual benefits to reduce the amount you need to pay out-of-pocket.