Preventive Dentistry - Metairie, LA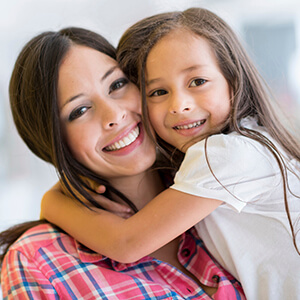 It is always easier to prevent problems from occurring than it is to fix them afterwards — that's why you (usually) wear sunscreen at the beach and mosquito repellent on a long Louisiana evening. It's the same with your smile. When you brush and floss your teeth as recommended and visit the dentist every six months, you are taking the steps necessary to enjoy a complete, healthy smile for a lifetime. Dr. Mayda Ferguson emphasizes regular preventive dentistry in Metairie with the dental services outlined below.
---
Dental Checkups & Teeth Cleanings
Patients of all ages should visit their dentist every six months. During a regular dental checkup and teeth cleaning, our team will remove the plaque and tartar buildup that leads to cavities and gum disease, which are the issues that can cause tooth loss and a number of associated conditions. Your dental hygienist will also measure any pockets that have formed between your teeth and gum line — deep periodontal pockets indicate gum disease and the need for treatment.
Once we have cleaned your teeth, Dr. Ferguson will perform a tooth-by-tooth examination of your smile and examine x-rays that we have taken (usually once a year). During the thorough exam, she will look for signs of cavities on the chewing surfaces on and between the teeth. If an issue is detected, we will schedule a time for you to return for restorative dental care.
Learn More
---
Dental Sealants
To protect the tooth enamel from trapped food particles and bacteria, dental sealants provide significant help. They are thin coverings that are painted directly onto the surface of the molars and premolars. Because children are at the highest risk of developing tooth decay, sealants are most commonly used in children's dentistry — but adults who are especially at risk of tooth decay can also benefit from the added protection. Dental sealants are completed painlessly in just one visit to Second Line Family Dentistry, often at the end of a dental checkup and teeth cleaning. They can provide years of protection against cavities.
---
TMJ/Bruxism Treatment
Many patients who are suffering from a clicking, popping, aching jaw often do not realize their dentist can provide the help they need to eat, speak, and chew without pain. The TMJ (temporomandibular joint) allows your jaw to move around properly, but when something is wrong with its alignment, chronic jaw pain isn't far behind. Bruxism, or nighttime teeth grinding, is likely to occur alongside TMJ dysfunction. Treatment for TMJ/bruxism in Metairie includes the occlusal splint, which is a small, plastic device that protects the teeth from grinding and takes pressure off of the TMJ. Dr. Ferguson can provide both the diagnosis and treatment of TMJ/bruxism at Second Line Family Dentistry.
---
Mouthguards/Sportsguards
Dr. Ferguson provides custom mouthguards and sportsguards for patients in and around Metairie, LA. They can protect the delicate tooth enamel from breaks, chips, and other injuries. People who grind their teeth at night, and athletes of all ages and levels of play, can benefit from the protective device. The personalized fit provides significant protection for the smile, far better than what you can achieve with an over-the-counter mouth guard, which may be uncomfortable or fall out when you need it most. Steer clear of dental emergencies with a customized mouthguard or sportsguard from your dentist.
---
Oral Cancer Screening
Dr. Ferguson is working to improve the outcomes of oral cancer diagnoses with early detection by providing regular oral cancer screenings. Performed within minutes at the end of a dental checkup, a regular screening for oral cancer can help you receive the treatment you need as soon as possible.
The oral cancer screening is a visual and tactile examination in which Dr. Ferguson will look out for the irregularities that could indicate trouble. She will talk to you about your oral health, including whether or not you have noticed anything unusual lately. Then, she will check your mouth, cheeks, neck, and other hard and soft tissues for lumps, bumps, rough patches, and persistent sores that don't heal. If a suspicious area is found, we will put together a plan to help you receive the follow-up attention you need as soon as possible.
---
Emergency Dentistry
You never know when a dental emergency will strike you or someone you love, and being prepared can mean the difference between saving an injured tooth or losing it. So what do you do when something goes wrong with your smile health? For knocked out, broken, or painful teeth, skip the emergency room — call your emergency dentist in Metairie instead. Dr. Ferguson is prepared to provide the urgent attention you need right when you need it.
---
Children's Dentistry
It shouldn't come as a surprise that your child's teeth have different needs from your own. When it comes to preventing tooth decay in little smiles, Dr. Ferguson knows regular dental checkups, teeth cleanings, dental sealants, and fluoride treatments will help young teeth develop into strong, healthy adult smiles. Let us put the youngest members of your family on the road to a lifetime of beautiful smiles! Our friendly team makes young patients feel right at home with gentle dental care.
---
Gum Disease Treatment
Gum disease is a chronic condition that is characterized by puffy, tender, red, and bleeding gums. Persistent bad breath and other unpleasant symptoms are likely to accompany it as well. Most adults have some level of infection in the gums — but if we catch it early, gum disease can be easily healed. Come into our dental office for regular checkups and cleanings, during which we will check in on the health of your gums and determine whether or not you need treatment. Gum disease causes periodontal pockets, or spaces between your teeth and gums. After they reach a certain depth, we will recommend gum disease therapy.
Scaling and root planing is a deep cleaning that removes infection-causing bacteria from above and below the gum line, then smooths the root of the tooth to prevent reinfection. Antibiotic therapy often accompanies scaling and root planing to complete the process. In more advanced stages of gum disease, surgical treatment may be required.