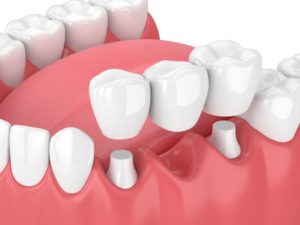 The crown is the portion of a tooth that is visible above the gumline. When it is damaged, the inner parts are left vulnerable to food particles and bacteria that can cause serious infection. One of the means of addressing this issue is to receive a dental crown restoration, which requires a few simple steps to complete. As you read on, you'll learn how the process works and why temporary dental crowns in Metairie are so important to its success.
The Replacement Crown Explained
A replacement crown is a tooth-colored restoration made from high-grade porcelain. This is the material of choice for most dentists because it's very similar to tooth enamel (the material that forms the outer layer of the crown) in both appearance and hardness.
It usually takes two visits to complete the dental crown replacement, and here's what happens at each trip:
The First Visit – On your first visit to your dentist, any work that's needed to improve the health of your tooth will be taken care of. For example, if you have severe decay that requires a root canal, the latter will be completed at the first visit, and you'll be fitted with a temporary crown.
The Second Visit – Between appointments, a trusted lab will use measurements and bite impressions taken at your first visit to fabricate your permanent crown. Your dentist will remove the temporary fixture and then place your new crown.
Why the Temporary Crown is So Important
As mentioned earlier, the temporary crown plays a key role in protecting your tooth from injury or infection by covering the exposed area while your permanent crown is being made. For it to be as effective as possible, here are some best practices to keep in mind:
Limit the amount of hard foods you eat like nuts, seeds and other edibles of a similar texture. Otherwise, you run a risk of damaging your temporary crown and possibly causing a dental emergency.
How to Protect Your New Crown
After the crown is placed and you're fully restored, the next step is to protect your restoration and surrounding teeth and gums by brushing and flossing at least two times a day. Doing this along with visiting your dentist semi-annually for cleanings and examinations will ensure that you enjoy the maximum longevity out of your crown.
About the Author
Dr. Mayda Ferguson earned her dental degree in 2000. Since then, she's been on a quest to continue learning more and further honing her skills, which is why she takes continued education courses annually and has also earned her Fellowship in the Academy of General Dentistry. To have your crown restored, you can find Dr. Ferguson at Second Family Dentistry, and she can be reached for more information through her website.