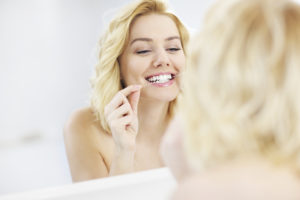 If you are dissatisfied with the appearance of your teeth, porcelain veneers in Metairie are the perfect solution for you. By placing the thin shells over the front surfaces of your teeth, you can instantly hide their imperfections. In as little as two appointments, they will become whiter, shapelier, and more proportionate. Using a minimally invasive procedure, you will enjoy long-term results. To protect your investment, it is best to care for your new smile correctly.

1. Don't Chew on Inedible Items
Although veneers are strong and durable, they can break. To prevent chips and cracks, it is best to avoid chewing on hard objects, like your nails, pens, or pencils. In addition, do not use your teeth as tools to open packages.
2. Visit Your Dentist
With regular care from your dentist in Metairie, you will keep your smile healthy and your veneers looking great. Not only will they clean your teeth and look for dental concerns, but they will also polish your veneers. Over time, they can lose their luster due to small scratches developing on their surfaces. With a quick polish, they will be bright and shiny for several years to come.
3. Avoid Discoloration
Porcelain is stain-resistant, but they can still appear discolored over time. Your underlying tooth is still subject to staining, which can cause the appearance of your veneers to darken. To keep your smile bright, limit your consumption of darkly pigmented foods and drinks, like coffee, tea, and berries.
4. Protect Your Teeth
Often, veneers become damaged due to trauma, injury, or strain. To prevent them from breaking, it is best to wear an athletic mouthguard when participating in sports, like biking, basketball, or soccer. If you have a habit of grinding or clenching your teeth, speak to your dentist about a nightguard to help take stress off your teeth, which may cause your veneers to break.
5. Don't Use Abrasive Products
To keep your smile healthy, it is important to brush your teeth twice a day and floss every night; however, you do not want to use abrasive dental products. They can cause scratches to develop on your veneers. Food particles can become trapped in the small lines, causing your smile to appear discolored. When caring for your teeth, it is best to use a soft-bristled toothbrush and nonabrasive toothpaste.
Protect Your Investment
With the right aftercare, your new smile will last for an average of 20 years before needing to be replaced. Unfortunately, even with the best care, a veneer can still become damaged. To restore your smile, your dentist can quickly replace it.
You can make sure your new smile lasts with a proactive approach to caring for your veneers.
About Dr. Mayda Ferguson
Since 2000, Dr. Mayda Ferguson has provided comprehensive dental care to the community. In addition to helping her patients achieve healthy teeth and gums, she also offers areas of specialty, including cosmetic dentistry. If you do not like the appearance of your teeth, she has the solutions you need to love your smile. Contact Second Line Family Dentistry today to schedule a consultation.