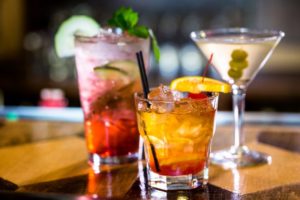 Plenty of people like to enjoy alcoholic beverages, and in moderation, there is nothing wrong with that! It's important, however, to understand how consuming alcohol in excess can impact your oral health. Just like any other treat you indulge in, it's important to be mindful of how much alcohol you're consuming and how you're taking care of your teeth afterward. Keep reading to learn more about different myths that people often believe about alcohol and their oral health.
Alcohol and Your Oral Health: Common Myths
When it comes to almost anything in life, there are "truths" and information that we hear and read that might not be so accurate. It's no different when it comes to alcohol and your oral health. Here are some false facts you might have heard:
Alcohol Can Keep You Hydrated
Hydration is actually the opposite effect that takes place when it comes to alcohol and the human body. The alcohol itself actually drains the body of hydration which can cause dry mouth, increased oral bacteria, and eventually cavities. This is why it's so important to drink as much water as you do alcohol while you're indulging.
Beer is a Safer Choice When it Comes to Teeth Stains
Unfortunately, even lighter-colored alcoholic beverages don't get to skip out on the stain-causing category. While many beers tend to be lighter in color, they still contain high amounts of acid that can cause wear and tear to tooth enamel. Over time, this can make the teeth more susceptible to stains from other foods and drinks or darker-colored beers.
Drinking Alcohol Won't Impact Your Overall Oral Health
From the high amounts of sugar in most mixed drinks and wines to the acids found in liquor and beer, alcohol can absolutely promote tooth decay and gum disease if abused. This is why it should always be consumed in moderation.
Alcohol Can Help Prevent Cavities
This one might sound a bit like it's from out of the left-field, but there have actually been false studies that have claimed this untrue information. Like anything else that you indulge in, if enjoyed in moderation, alcohol is fine. However, its ability to prevent cavities is completely unscientifically founded.
If you have questions about oral health that you read on the internet or hear in conversation, the best way to know if the information is true or not is to talk to your dentist.
About the Author
Are you searching for the highest caliber of dental care that Metairie has to offer? Then look no further than Dr. Mayda Ferguson. She is passionate about helping each of her patients achieve and maintain healthy smiles. She has years of training and education under her belt, and she can't wait to guide you on your oral health journey. You can schedule an appointment online or call (504) 833-2220.