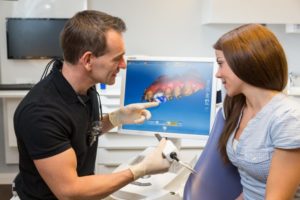 When you have a broken or decayed tooth, the few weeks it takes to get a dental crown can feel interminable. Not to mention, you have to take time out of your busy schedule for two separate appointments with your dentist. Thanks to CEREC technology, your dentist can design, create, and place your dental crown in a single appointment! As innovative and convenient as same-day dental crowns are, not many people know much about them. Here are four surprising facts you should know about CEREC crowns.
#1. No Gross-Tasting Putty Required for Impressions
For years, the only way your dentist could create a mold for your crown was to put a messy putty in your mouth that often tastes gross and made some patients gag. That's a thing of the past thanks to CEREC. With this technology, your dentist takes impressions digitally using a scanner that easily fits within your mouth. Not only are digital impressions more comfortable, but they're often more accurate as well.
#2. The Process Only Takes a Couple of Hours
Getting a dental crown traditionally takes two or three visits spaced out over the course of several weeks to a month or even more. This often means taking valuable time off from work or school to sit in the dental chair. To get a same-day dental crown, all you have to do is block off about two hours of a single day. This treatment can fit into practically anyone's schedule!
#3. They Are Custom-Made from Durable, Lifelike Porcelain
Traditional and same-day crowns are different in almost every way, but they do share one similarity: they're both crafted from dental porcelain. This high-quality material is durable enough to withstand the daily pressures of biting and chewing for years to come. Plus, it mimics tooth enamel incredibly well – so much so that others shouldn't be able to tell that you even have a crown!
#4. They Cost About the Same as Traditional Crowns
Many people hesitate to look into CEREC crowns because they're worried that with this cutting-edge technology, their treatment will be more expensive. The good news is that's not necessarily true. Same-day dental crowns don't require communication with an outside dental lab. This results in savings for the dentist, which they then pass onto you. Additionally, not having to take time off from work to attend separate appointments can save you money. So, getting a same-day crown benefits your wallet as well as your smile.
If you have a broken, injured, or otherwise damaged tooth, you'll want to get it repaired as soon as possible, and same-day dental crowns are often the best way to do that. Hopefully, these four facts gave you a better idea of how this treatment can help you. If so, then call your dentist to learn more!
About the Author
Dr. Mayda Ferguson is an experienced dentist in Metairie, LA who has earned a Fellowship with the Academy of General Dentistry. She stays up to date with the latest dental technologies, which is why she offers CEREC same-day dental crowns at Second Line Family Dentistry. To find out whether this treatment is right for you, contact Dr. Ferguson online or call (504) 833-2220.