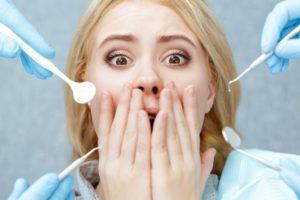 One of the most common reasons that people avoid going to the dentist for regular visits is dental fear. According to researchers, anywhere between 50% and 80% of adults in the United States have some level of dental anxiety, ranging from mild to severe. However, there are many reasons that you should seek dental care. Continue reading to learn why regular dental visits are so important and how sedation dentistry can help.
Check for Tooth Decay
One of the most important reasons to visit your dentist is so they can find tooth decay early on. This issue is minor at first, but when it is left untreated, it can lead to more serious issues later. Having small cavities caught now and treated could mean that you avoid a more invasive procedure like a root canal or extraction in the future.
Professional Cleaning
Even if you brush your teeth twice and floss once every day like you should, there are still going to be areas in your mouth that you could miss. When you go in for your regular cleanings, your hygienist will remove buildups of plaque and tartar before they become an issue for your oral health. They will also be able to give you advice on how to optimize your oral hygiene.
Catching Early Gum Disease
Periodontal disease is extremely common with half of American adults over the age of 30 suffering from it. However, it is easily preventable. When you have your regular checkup, your dentist examines your mouth for early signs of gum disease so it can be addressed at treated early on. When it's left to progress, patients could end up dealing with gum recession, loose teeth, and tooth loss.
Detecting Oral Cancer
According to the National Institutes of Health, over 30,000 Americans suffer from oral cancer each year. However, when it is caught early on, it can often be treated easily. Since the disease spreads so quickly, a missed dental visit could mean you're putting your life on the line.
How Can Sedation Dentistry Help?
Fortunately, there are options out there for people who have mild to severe dental anxiety. Your dentist has a menu of sedation options that can help patients with dental phobia get the essential care they need. By talking to your dental team about what makes you fearful, they will be able to offer a sedation option that can help to make you feel more relaxed while sitting in the dental chair.
Regular dental visits are crucial in order to obtain optimal oral health. If you have dental anxiety, talk to your dentist about their different sedation options. Your dental team can help you get the essential care you need, worry-free!
About the Author
After obtaining her dental doctorate in 2000, Dr. Mayda Ferguson continued her training with a General Practice Residency at the VA Medical Center in New Orleans. She earned a Fellowship in the Academy of General Dentistry and is committed to attending continuing education courses in order to stay up to date with the latest techniques and technology in the field. To learn more about sedation dentistry or to schedule an appointment at her office in Metairie, visit her website or call (504) 833-2220.