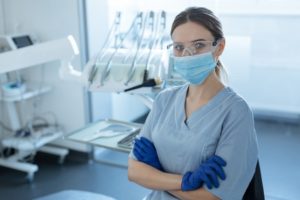 Whether you're going to the grocery store so you can make dinner, connecting with family members, or working on furthering your education, COVID-19 has changed pretty much everything. This includes your visits to the dentist.  In order to keep you safe and reduce the possibility of spread in the office, your dentist has taken numerous precautions that limit the transmission of germs. Continue reading to learn exactly what you can expect when it comes to dentistry during COVID-19.
Before Your Appointment
The following steps are being taken before your appointment even starts in order to prepare for your visit:
Daily Team Health Checks
Every day, when the dental team comes into the office, they are asked a quick set of questions regarding their current health and have their temperature taken using a no-contact thermometer. This ensures that they are ready, willing, and able to provide safe dental care.
Patient Pre-Screening
When patients come for their appointment, they are asked to complete a health questionnaire and consent form. A no-touch temperature check is also completed before the start of the appointment.
Sequenced Patient Scheduling
Appointments are spaced out further than they usually are. This helps to limit unnecessary contact between patients. Ultimately, the less people in the office at one time, the better. This extra time also allows for additional cleaning.
During Your Appointment
Here are some of the changes you may notice during your next appointment:
Anti-Microbial Rinse
At the start of every appointment, patients are asked to rinse their mouth using an Oracare solution that is provided by the staff. This helps to reduce the number of bacteria in the mouth and reduces the probability of spreading illnesses to others.
Social Distancing
The practice is implementing social distancing guidelines. There are now fewer chairs in the reception area, helpful signs, and one-way traffic in the treatment area. This helps to make six feet spacing a reality.
Additional PPE
Your clinical team always wears personal protective equipment when working on your smile. However, now you can expect to see even more. The administrative team at the front desk are now wearing masks and the clinical team is wearing PPE like face shields and disposable protective coats and hats. When your dental team is safe, so are you.
After Your Appointment
All instruments, equipment, and surfaces are wiped, sanitized, and disinfected after every single patient. Along with cleaning and sanitizing during the day, the staff clean the office top-to-bottom in the evenings after all patients go home.
Just because we're living through a pandemic doesn't mean that you should be neglecting your oral health. With all of these new safety protocols, you can rest assured that you are safe during your regular visits.
About the Author
Dr. Mayda Ferguson is a well experienced family dentist serving patients in the Metairie, LA area. She's earned her Fellowship in the Academy of General Dentistry and has been working in the field for two decades. Dr. Ferguson and her team are taking 18 additional steps to keep her office as safe as possible. For more information or to schedule an appointment, visit her website or call (504) 833-2220.