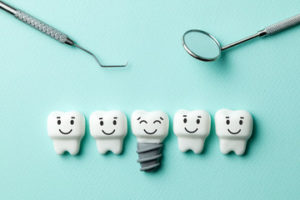 Is it time for you to say goodbye to your dentures? They are lifechanging for people who are missing most of or all of their teeth, but there can still be a few downsides to this type of dental restoration. But with modern dental technology, they aren't the only option. More than 3 million Americans are already reaping the benefits of dental implants. If you're thinking about transitioning from dentures to implants, here are a few things you should know so the process goes as smoothly as possible.
What Are the Benefits of Implants Over Dentures?
There are all sorts of reasons why someone may want to transition from dentures to dental implants. Here are just a few of them:
More Stability: When dentures aren't fitting as they should, you will notice that they aren't stable in your mouth. They can slip and slide, making it more difficult to ear. On the other hand, implants are anchored into the jawbone, providing as much stability as natural teeth.
No Food Restrictions: You want to be careful when you are eating foods that are particularly hard and sticky, but after the healing process is complete, you won't need to worry about any eating restrictions. Dental implants restore up to 90% of your natural chewing power, while dentures only do so up to 30%.
Preserves the Jawbone: Tooth implants are the only tooth replacement option that preserves the integrity of the jawbone. This is because they replace the root of the missing tooth, therefore stimulating the jawbone when you chew.
Long-Lasting: Dentures need to be replaced every 7 to 10 years. When cared for properly, implants can last upwards of 25 years and even the rest of your life.
Easy Maintenance: You won't need to have a collection of adhesives or soak your teeth at night. You can take care of your implants just like you would with natural teeth. Brush, floss, rinse, and see your dentist!
What Should You Know When Making the Transition?
It takes a little bit of time to get used to your new implants. Here are some tips that may help:
Set Aside Time for Healing: After your dental implant placement surgery, you will need to have some time set aside to heal. Take a few days off work and get plenty of rest.
Stick to Soft Foods: You won't have food restrictions after your implants completely heal, but for now you should be sticking to soft foods. This will help the healing process go more smoothly.
Adjust Your Oral Hygiene Routine: You will no longer be needing your adhesives or soaking solutions. Instead, you will just have to get back to an oral hygiene routine for natural teeth. You can even find special toothbrushes made specifically for people who have dental implants.
There's a transitional period that you will need to get through when making the switch, but you will be reaping the benefits of dental implants in no time!
About the Author
Dr. Mayda Ferguson earned her Doctor of Dental Surgery and has been committed to completing continuing education courses ever since in order to keep her knowledge and skills sharp. She has also earned a Fellowship in the Academy of General Dentistry. For more information on dental implants or to schedule a consultation at her office in Metairie, visit her website or call (504) 833-2220.