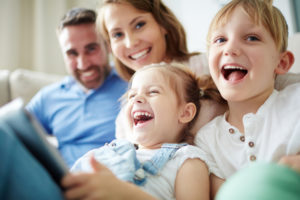 When it comes to finding a dentist in Metairie for your whole family, it's easy to become overwhelmed. With a simple Google search, you'll have to make a decision from hundreds of results. How are you able to tell who will effectively care for your family's well-being by surfing the web?
If you can relate to the daunting feeling that's associated with finding the perfect practice to call your dental home, this week's blog post is here for you!
First, understand why it's so important to find a dentist for you and your loved ones.
When it comes to good health, it's best to practice prevention rather than restoration. Plus, taking care of your smile from the beginning will save you money in the long run!
The ideal family dentist's main priority is helping you and your loved ones achieve a healthy and beautiful smile—plus they'll help you maintain it. To effectively take care of a smile, patients need to take excellent care of their smile at home and keep all their regular dental checkups and cleanings with their dentist.
Not to mention, in the case that you or one of your family members needs extra dental assistance, you'll always have a dental team to call for advice and specialized services.
Here are a few factors that set our office apart from other dental practices.
7 Things That Make Second Line Family Dentistry Different
Our patient comforts and amenities are second to none, including complimentary beverages, lip conditioners, cozy blankets, headsets and iPod selection music, pillow-top treatment lounges, and advanced technology.
Our mission is to enjoy a personalized and professional relationship with each of our patients, making you feel appreciated from the minute you step in the door.
As a top female dentist in the Metairie area, Dr. Mayda Ferguson has been practicing compassionate, gentle, effective dentistry since 2000!
Ferguson was born in Cuba, although she has lived in the Metairie area for most of her life. With her personal background, she has been fluent in both English and Spanish so that she can effectively serve patients without language barriers.
Other patients love visiting our office and brag about their experiences online all the time! Review our testimonials page here.
Second Line Dentistry accepts most insurances, allowing for almost all patients to receive covered dental care. If you don't have insurance, we have a helpful financing program, providing a way for every patient to receive the dental care their smile deserves.
Our office is conveniently located right off Interstate 10 and easy to get a hold of—even by text message!
It's not always easy to choose your perfect dental practice, but you can't ignore the great things that Second Line Family Dentistry has to offer. Learn more and contact us.
---
Meet Your Dentist
As mentioned above, Dr. Mayda Ferguson has been practicing dentistry since she completed her doctorate in 2000—but she didn't stop there. After completing her doctorate, she continued her training with a General Practice Residency at the VA Medical Center in New Orleans soon after. She continues to strive for excellence in her day to day practice and can't wait to serve your dental care needs!