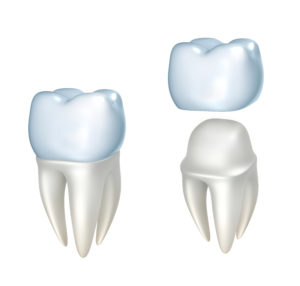 We're lucky to live in a time when we have safe, reliable dental treatments for our smiles. Believe it or not, there was a time in human history when people tried using materials like beeswax and wood to fix damaged teeth! Thankfully, those days are over.
Today, a very common procedure to restore damaged teeth is dental crowns in Metairie. If you've recently found out you need a crown but aren't sure what to expect, we've got you covered! Keep reading to learn what a crown is, how it's made and how you'll feel after the procedure.
What Is a Dental Crown?
Also called a "cap," a crown is a strong, durable restoration that's used to restore a tooth that's been severely damaged by a cavity or fracture. A crown will bring back the shape, size, function and appearance of the tooth so that it looks and feels completely natural.
Dental crowns can be made of different materials, including gold, porcelain and zirconia. Your dentist will recommend the best material based on the location of the tooth and other factors, including how you'd like the crown to look.
What Is the Procedure Like?
The procedure requires two appointments. The first appointment is the longest and generally takes around an hour and a half.
Here's what you can expect:
After making sure that you're numb and comfortable, your dentist will remove any damaged tooth structure and reduce your tooth in size to prepare it for the crown.
Impressions are taken and sent to a dental lab where technicians use the molds of your teeth to custom-make a crown. If you're getting a tooth-colored crown, it will be matched so that it blends seamlessly with your smile.
A temporary crown is made for you to wear in the meantime so that you can chew, smile and function normally until your second appointment.
You'll return about two weeks later to complete the procedure. This visit is much shorter, usually taking around 30 minutes.
The temporary crown will be removed and the permanent one will be cemented into place.
Finally, your dentist will check your bite make any adjustments as needed.
Will it Be Uncomfortable?
You shouldn't experience any pain after getting your crown, although your gums may be slightly tender for a day or two.
Also, if your tooth hasn't had a root canal there's still a nerve present, so you might have temporary cold sensitivity that can take a few weeks to completely resolve.
While there isn't any discomfort in most cases, don't hesitate to call your dentist in Metairie if you have any lingering symptoms.
With modern options like dental crowns for restoring your damaged teeth, you can look forward to many years of great oral health!
About the Author
Dr. Mayda Ferguson is a general, restorative and cosmetic dentist who has been providing her community with outstanding dental care for almost 20 years. She always makes sure that her patients understand their treatment plans and procedures, and has a gentle, compassionate chairside manner. If you have any questions, she can be reached via her website or at (504) 833-2220.