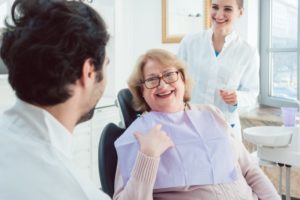 Procrastination can definitely get the best of you sometimes. It's important to realize when your day-to-day health can be affected by it though. By putting off your semi-annual checkups, you can be opening your mouth up to a world of infections and cavities. Sometimes those small issues can even progress into more detrimental health problems. Your dentist in Metairie wants you to know just how important scheduling these checkups are. 
What Should I Expect From My Dental Checkups?
There are typically two parts to your semi-annual checkups: the examination and the cleaning. During your examination, your dentist will check for cavities or will capture X-rays to see if you are developing cavities between your teeth. They'll count your teeth and check for plaque and tartar buildup to see if you're at risk for developing gum disease or infections. Your gums will also be inspected and measured during your visit to look for signs of gum disease.
After your examination, your dentist or hygienist will perform a cleaning. It involves a special tool used to get plaque and tartar off your tongue, this is called scaling. When they are finished being scaled, your dentist may polish your teeth with a grainy paste to help clear them of stains. After that, a quick floss and you're all done!
During your checkups, you're able to get thorough insight on how you have been taking care of your mouth and if there's any way you could improve your daily oral hygiene. Creating an optimal routine can do wonders for preventing oral problems, so it's worth taking the time to ask your dentist about.
How Should I Care for My Teeth Between Checkups?
Hopefully, you have already made a daily hygiene routine that involves the basic task of brushing your teeth twice a day. But, are there other steps you should be adding to that list? Yes! Here are a list of daily tasks that help keep your smile bright:
Flossing every day helps to remove debris from between your teeth to stop buildup of bacteria.
Rinsing your mouth with special antibacterial and teeth whitening mouthwash after you brush not only freshens your breath, but has other obvious benefits. Asking your dentist which mouthwash would be best for you is a great start.
Make sure to brush your tongue, cheeks and roof of your mouth to help prevent bad breath and remove food debris.
Why Are Regular Checkups Important?
Regular cleanings are vital in making sure small dental problems don't turn into large ones. If you attend your checkups, you could prevent a cavity from turning into an infection or gum disease. Your dental hygiene in Metairie should be your top priority, and it all starts with scheduling your semi-annual cleanings.
About the Author
Dr. Mayda Ferguson provides the community of Metairie with the most up-to-date dental care. She strives to keep current on all new advancements in her field so she can give her patients the care they deserve. She focuses on getting to know everybody that walks through her doors and establishing valuable connections. If you would like to schedule a semi-annual checkup or have any questions, please visit Second Line Family Dentistry's website or call them at (504) 833-2220.