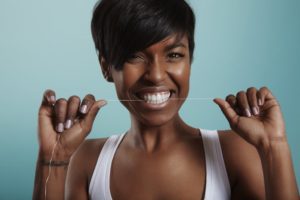 The of maintenance your oral health is important to you, but could your dental hygiene habits stand some improving? If flossing isn't part of your routine, then your dentist in Metairie says it's time to reconsider your approach. As you read on, learn why the use of dental floss is such an important part of your preventive efforts, and also discover some helpful tips for how to get the best results!
Why Brushing isn't Enough
Cleaning your teeth with a toothbrush is an integral part of your oral hygiene routine. It agitates and removes most of the debris that rests on your teeth. However, it's not enough by itself.
The bristles can only clean about 60% of the surface of the teeth because they can't maneuver into the tight spaces between them. This is where dental floss comes in handy to create the perfect "one-two" combination. With its soft and malleable nature, floss can be carefully lowered between the teeth to remove leftover food particles and bacteria that could otherwise remain trapped and turn into harmful plaque.
The Proper Way to Floss
Now that you're aware of the importance of flossing, let's take a look at how it should be done:
Extract roughly 18-24 inches of floss and wrap it around the third finger on each hand.
Leaving one-to-two inches of material exposed, carefully slide it back-and-forth to descend between your teeth.
Then, forming the floss into a "C" shape and using a back-and-forth motion, pull it out.
To prevent any re-contamination, be sure to use a new portion of the floss before cleaning in the next space.
How Often Should You Floss?
Consistency and frequency are of the utmost importance because bacteria are resilient. So as a general rule of thumb, along with brushing, you should floss at least two times a day. It doesn't matter which order you perform the two procedures as long as they're done correctly.
To be safe, wait around 30 minutes after consuming any food or beverages before performing oral hygiene to prevent any damage to your teeth.
Is It Okay to Use an Alternative?
Although people have come up with some creative alternatives to cleaning with dental floss like using their fingernails, folded paper or cards, cutlery, safety pins and strands of hair, these methods are dangerous. Statistics show that 42% of people who have used such unconventional measures have experienced some type of pain.
The discomfort can be considered as a warning sign that a dental emergency could happen. Thus, it's just better to clean your teeth the proper way.
Now that you're better educated about the importance of using dental floss, the next step is to make it a regular part of your oral hygiene regimen. Then, to maximize your efforts, be sure to reach out to your local dentist to schedule a preventive care appointment today!
About the Author
Since earning her dental degree in 2000, Dr. Mayda Ferguson has remained driven to constantly expand her knowledge and further hone her skills. Thus, she has gone on to earn a Fellowship in the Academy of General Dentistry. Dr. Ferguson puts her evolving knowledge to good use by helping patients experience the best in oral health at Second Line Family Dentistry, and she can be reached for more information through her website.