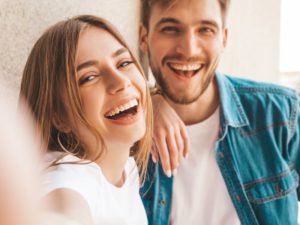 A healthy smile means more than just a set of beautiful pearly whites you can't wait to show off. Not only does taking care of your teeth make you feel happier, less stressed, and more confident, but it can also enhance your general wellbeing! Numerous studies have found that good oral health can boost your immune system and lower your risk of serious health conditions. The best part is that it's easy to achieve and maintain a happy, healthy smile! You can improve both your body and your teeth with these five simple tips from your dentist in Metairie.
Have a Solid Dental Routine
A great smile doesn't happen on its own. The American Dental Association recommends brushing your teeth for two minutes twice a day and flossing daily. This is crucial for cleaning out the buildup of bacteria in your mouth and preventing tooth decay, infections, and gum disease. Furthermore, studies show that great oral health care is linked to reducing the likelihood of issues like heart disease, diabetes, and more.
Use the Right Tools
Brushing correctly is just as important as brushing often. Using the wrong dental products could cause your dental routine to do more harm than good! Toothbrushes with hard, stiff bristles and highly abrasive toothpastes can damage your enamel. When selecting your dental tools, always choose soft-bristled toothbrushes, gentle toothpastes, and products approved by the American Dental Association.
Eat Smile-Friendly Foods
Cutting back on sugary foods is an easy way to improve your oral health. These empty calories feed the harmful bacteria in your mouth, which speeds up the process of tooth decay and gum disease. Instead, swap them out with food that can boost the health of your gums and teeth. Smile-friendly options include foods that are calcium-rich, high in fiber, and contain vitamin C.
Drink More Water
Drinking water is vital for your general health, but did you know that it's important to your dental health too? Every time you drink water, you rinse off any sugars and bacteria that had been lingering on your teeth. Staying hydrated also encourages saliva production, which acts as your body's own natural mouthwash!
See Your Dentist Regularly
Even with great dental habits, seeing your dentist every six months is important for a healthy smile. Your dentist is able to identify oral health issues like tooth decay, gum disease, and oral cancer that you may not feel or notice yet. Catching and treating these conditions early will keep your mouth clean and prevent long-term damage.
These little changes can make a big impact on your life. Simple tips like the ones above can give you a beautiful smile and better overall health!
About the Author
Dr. Mayda Ferguson is a preventive, restorative, and cosmetic dentist at Second Line Family Dentistry in Metairie, LA. She is a Fellow of the Academy of General Dentistry and completes numerous continued education courses every year in an array of specialties. For two decades, she has helped patients build and maintain happy, healthy smiles that improve their quality of life. If you'd like to know more tips for a better smile, she can be reached at her website or at (504) 833-2220.