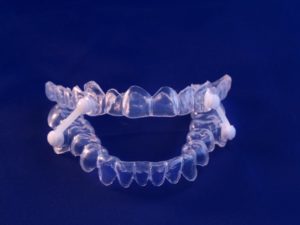 A custom oral appliance is a convenient alternative to using a CPAP machine to treat sleep apnea, but it still takes some time to get used to. While it may seem a little uncomfortable at first, this is just temporary. Furthermore, there are ways to adjust to your new appliance and get the restful sleep that you need. Continue reading to get the full details!
Common Challenges with New Oral Appliances
Rightfully so, when you first insert an oral appliance, it can feel abnormal. It's not uncommon for your body to react as it attempts to adjust to the new apparatus. Here are some of the issues that new patients may encounter:
Discomfort and tightness – Oral appliances are constructed from hard-plastic. Thus, it may feel unnatural in your mouth. Most patients report experiencing a snug and restricting fit, but that's actually a plus. It ensures that the appliance won't fall out while you're snoozing.
Excessive saliva production and drooling – When something is inserted, your mouth naturally produces extra saliva to encourage digestion. Therefore, in the early stages of wearing your oral appliance, you may experience excessive drooling.
Gagging – At first, patients with a stronger gag reflex may find it a little more difficult to insert the apparatus in their mouth. However, the urge should subside over time.
Nighttime removals – Some patients are prone to unconsciously remove their oral appliance at night. If this happens to you, it should stop over time as your body learns to adjust to wearing the oral appliance.
Learning to Live with Your Oral Appliance
Time is a key factor in adjusting to your oral appliance. By consistently wearing it every night, your brain and body will eventually learn to adapt. This will help ease any discomfort, regulate your saliva production and limit the instances of nighttime removals. The typical adjustment period is around 2 to 3 weeks.
What if the Challenges Continue?
After the first 3 weeks of wearing your oral appliance, if you're still having difficulties, there could be an issue with the design of the apparatus. At that time, you should bring it to your dentist's attention. If necessary, minor adjustments can be made to improve the situation. If that doesn't work, you may need to get a new device.
While adapting to an oral appliance may seem challenging at first, the long-term mental and physical benefits are well worth the initial efforts!
About the Author
Dr. Mayda Ferguson earned her dental degree from Louisiana State University. With two decades of experience in the dental field, she infuses a wealth of knowledge and compassion into every visit. To remain current with the latest breakthroughs in dentistry, Dr. Ferguson takes several hours of continuing education annually, and as a testament to her commitment to excellence, she has earned Fellowship in the Academy of General Dentistry. Dr. Ferguson helps her patients rest better by providing oral appliances at Second Line Family Dentistry, and she can be reached for more information or to schedule a visit through her website.