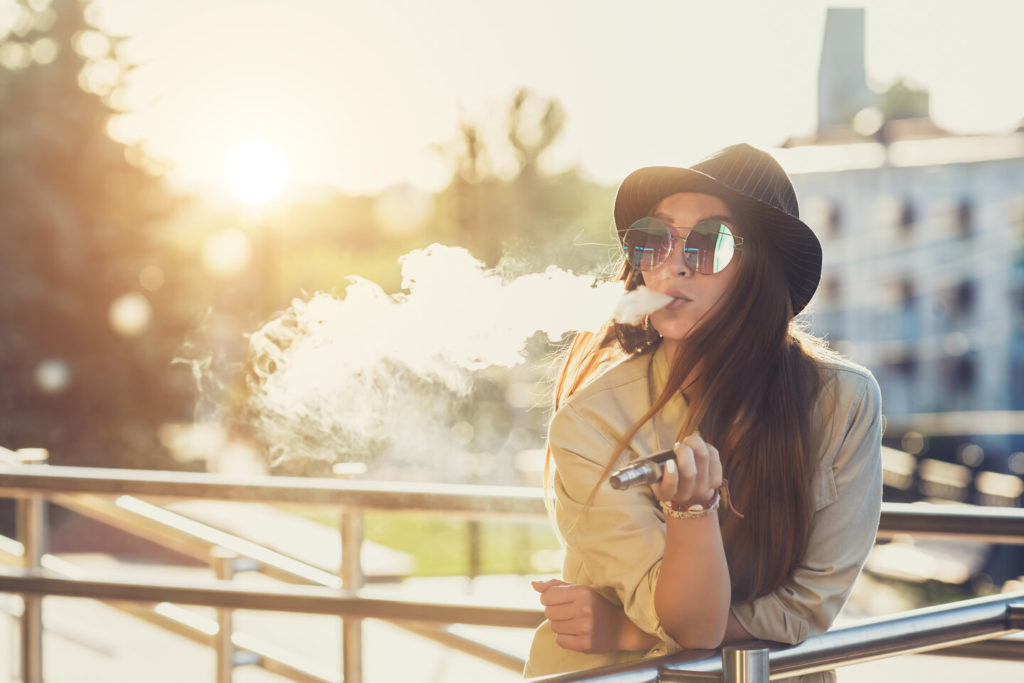 If you regularly struggle with stress or anxiety, you may be considering vaping CBD oil to help ease your mind. With so many studies indicating that CBD oil offers a range of health benefits, it's worth a try, right? As it turns out, vaping CBD may actually hurt your oral health. Some research suggests that it may even lead to gum disease. Read on to learn more about the connection between vaping and gum disease as well as what you can do to keep your smile as healthy as possible.
So, what's CBD?
Cannabidiol, or CBD, is a compound found in the cannabis Sativa plant, which is a type of marijuana. It promotes relaxation and does not contain THC, the compound in cannabis that gets people "high." Taking CBD makes users feel calm and can help control mental health issues, including depression, anxiety, and insomnia. It may even help alleviate chronic pain. With that being said, vaping CBD may result in certain dental health problems.
Can Vaping Cause Gum Disease?
Though vaping poses fewer risks to your health than smoking cigarettes does, it can still cause harm to your gums and teeth. Vaping is still relatively new, so we aren't yet aware of what the long-term effects may be. Even so, vaping may be a contributing factor to a few different oral health issues, including:
Dry mouth – Propylene glycol, a chemical found in e-cigarettes, can cause your mouth to dry out. Since saliva rinses bacteria out of your mouth, not producing enough of it puts you at a higher risk of developing cavities and gum disease.
Inflammation and irritation – According to a study done by the NYU College of Dentistry, different bacteria are found in the mouths of e-cig users than non-users. This makes e-cig users more prone to inflammation and infection.
Excess bacteria – Because vaping causes changes in the mouth's microbiome, the environment of microorganisms in the oral cavity, this can put users at a higher risk of developing gum disease.
Tips for Keeping Your Smile Healthy
Though improper use of CBD oil can put your dental health at risk, there are safe ways to reap the benefits. Instead of vaping, you can eat gummies or other foods infused with CBD. This is generally healthier for both your lungs and your mouth. If that isn't a viable option and you must continue vaping to use CBD oil, here are some tips that will help you keep gum disease from developing:
Drink water – Drinking water after you use your e-cig can prevent dry mouth as well as bad breath.
Brush and floss – Make sure that you brush at least twice per day and floss at least once. This will minimize the risk of plaque and bacteria and building up in your mouth.
Visit your dentist – Make an appointment to see your dentist every six months for checkups and cleanings. Also, call them if you notice any possible signs of gum disease, like tender or bleeding gums.
Vaping CBD oil may put you at a higher risk of developing gum disease, but using the above tips will allow you to enjoy the mental health benefits without putting your oral health at risk. Make sure to keep up with your oral hygiene routines and drink plenty of water so you can vape your way into a better state of mind!
About the Author
If you use an e-cig or are considering vaping CBD oil to help ease stress, pain, or depression, Second Line Family Dentistry can help. Dr. Mayda Ferguson and her talented Metairie team can provide you with the guidance you need to make sure you keep your mouth healthy on your journey towards improved overall well-being. Call Second Line Family Dentistry at (504) 833-2220 or visit their website to learn more or to schedule an appointment.