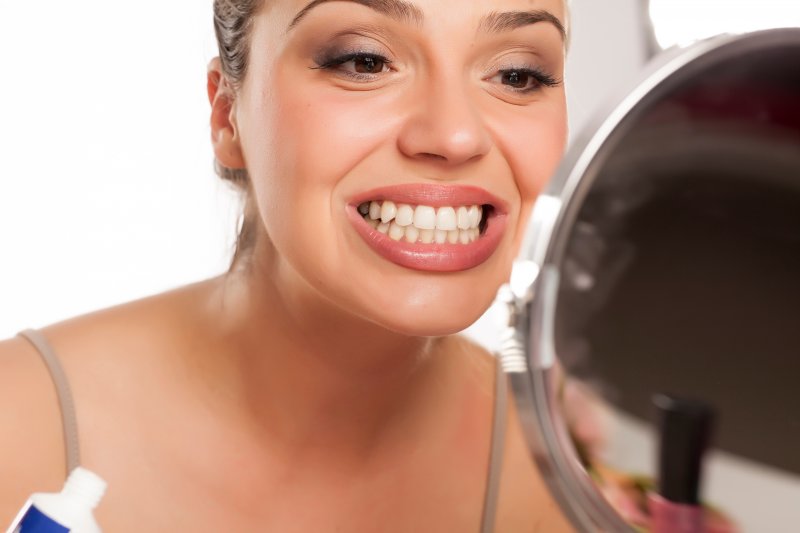 Everyone is different. From our eyes to our ears to the shape of our noses, we all have something unique about us. Smiles are no exception. Even though the uniqueness of our pearly whites makes each of us special, that doesn't mean you have to settle for a smile that you don't love. Stained teeth can make you feel insecure and unwilling to smile in social situations. But what causes dental discoloration in the first place? Read on to learn about three types of tooth stains and how your dentist can help you remove them with cosmetic dentistry.
Type #1: Extrinsic Discoloration
This kind of discoloration is superficial and affects the outermost layers of the teeth, which is called the enamel. These stains often result from drinking coffee, cola, tea, or red wine, eating highly pigmented foods like berries, or using tobacco products. Regular cleanings at your dentist's office work well to remove these stains. Brushing with whitening toothpaste is also effective. Since whitening toothpaste generally contains abrasives that can scratch your enamel like charcoal and baking soda, they should be used in moderation to avoid weakening your teeth.
Type #2: Intrinsic Discoloration
Intrinsic stains are located within the tooth. This makes them much more resistant to toothpaste, strips, and other over-the-counter whitening products. These types of tooth stains can make the teeth look a grayish hue. Tooth decay, certain kinds of medication, overexposure to fluoride, injury or trauma to the tooth, or genetic factors can cause this type of discoloration. Professional tooth whitening may be needed to remove these stains.
Type #3: Age-related Discoloration
As we get older, our enamel wears away, which exposes the yellow dentin. The translucency of the tooth also reduces, making it look darker than it once did. These age-related tooth stains are usually caused by a combination of intrinsic and extrinsic factors, such as eating and drinking certain things and using other tobacco products.
How Your Dentist Can Help You Brighten Your Smile
Luckily, there are several ways that your dentist can remove stains from your teeth and help you achieve a brighter smile. Teeth whitening can be used to remove stains and give you a more luminous smile. in-office whitening can help you achieve your smile goals in as little as an hour. At-home whitening uses custom trays filled with gel to whiten the teeth for 30 minutes per day over about a two-week period.
Now that you know what causes different kinds of stains, you can take the necessary steps to avoid getting them in the first place. If you want to remove existing discoloration, ask your dentist what options they have available so you can achieve a smile you'll be proud to show off!
About the Practice
Do you have tooth stains or a discolored smile that you want to correct? Dr. Mayda Ferguson and her talented Metairie team at Second Line Family Dentistry can help you achieve a bright, beautiful set of pearly whites. From teeth whitening to bonding to veneers, they offer what you need to achieve the gorgeous grin you've always wanted. To learn more about different types of stains and how to remove them or to set up an appointment with Second Line Family Dentistry, call their office at (504) 833-2220 or visit their website.